[German]Currently some rumors about an upcoming new share UI for Windows 10 Creators Update has been spread trough the internet. Here are a few details about that new topic.
---
Advertising

---
The rumor about a new Share UI
Yesterday some web sites like MSPowerUser.com reported, that Windows 10 Creators Update will get a new Share UI.

(Source: MSPowerUser.com)
This rumor was based on the shot shown above from the Windows 10 event, back in October 2016, where Microsoft has shown the new Share UI. And there has been some tweets like the one shown below.
@BucksterMcgee @bjorndori @DennisBednarz @NotCassim @zacbowden On it! Share improvements coming to WIP builds soon.
— peter skillman (@peterskillman) 25. November 2016
---
Advertising

---
The old sharing UI
To recap, I tried sharing within the Windows 10 Photo app which shows the Sharing side bar introduced in Windows 8 (and remains till Windows 10).
After clicking the Share button within the Photo app, the Share side bar offers some apps to share.
The new Share UI
In Windows 10 Creators Update the new Share UI will probably become official for the first time. If you use the Share button in a corresponding UWP app (here the Photos app), a palette with the share options appears (see this tweet).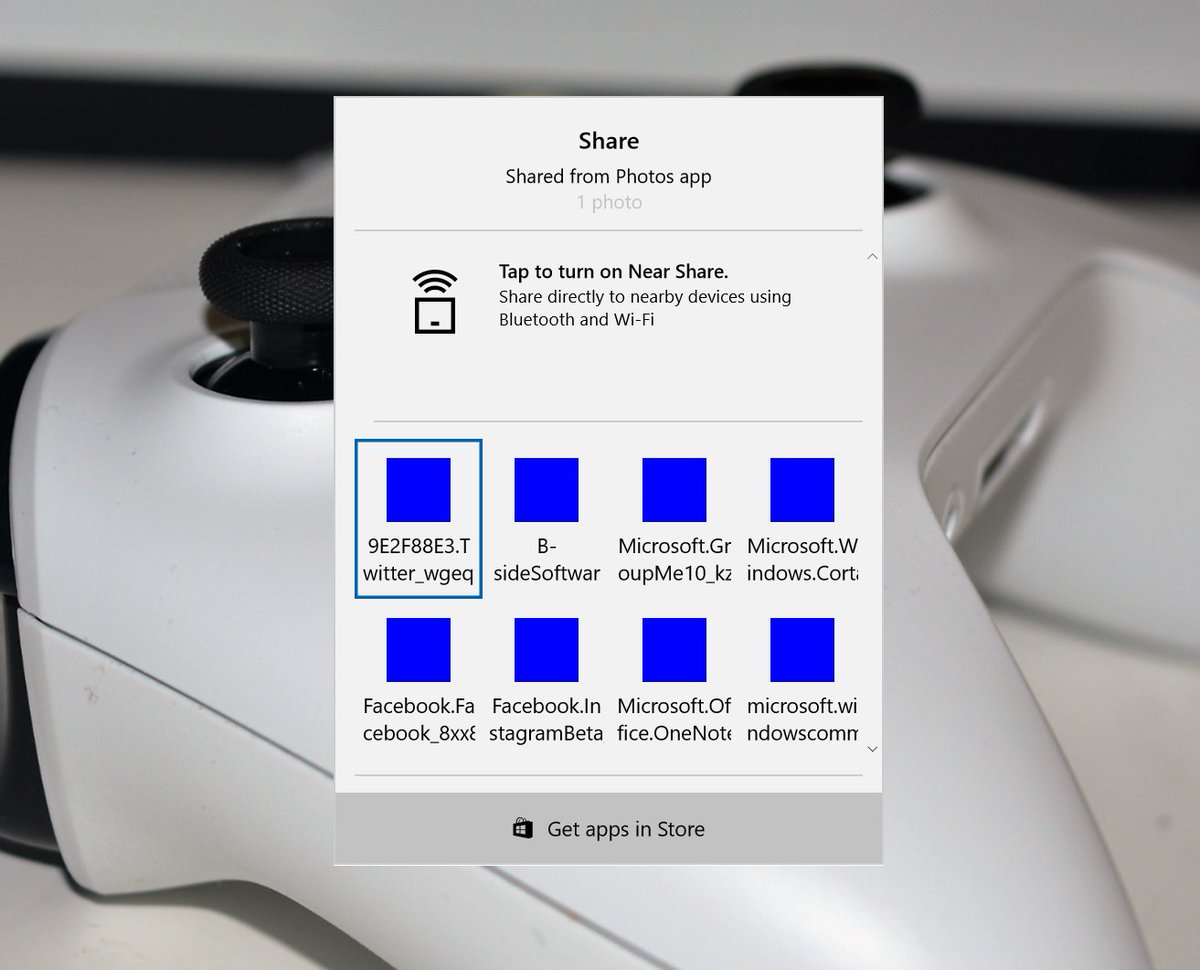 (Source: Twitter, via MSPU)
Instead of a side bar there will be a palette to select a sharing app. But the screenshot shown above indicates, that the new feature is still pretty buggy. Instead of offering the sharing apps with it's name and icon, the installed apps are given with a blue rectangle and it's internal name. But there is also a new option, which could be activated by clicking on it. This new features suggest, that the content could be shared with other (Windows 10) devices near by via bluetooth or Wi-Fi.
Activate new Share UI in Windows 10 (Build 14965)
MsPowerUser.com got a tip how to activate the new Share UI in Windows 10 (Build 14965). To do this, you can download and unpack the ZIP file share-windows10.zip. Then import the file share-windows10.reg under an administrator account into the registry by double-clicking it. If you are running a standard user account, run Registry Editor regedit.exe from Run As Administrator and import the .reg file from the File menu.
Alternatively, you can create the following subkey within the registry editor, which must run with administrative privileges:
HKEY_LOCAL_MACHINE \ SOFTWARE \ Microsoft \ SharePlatform
Then add a 32-bit DWORD value EnableNewShareFlow and set it to 1. The new Share UI is then immediately displayed on my test system. A value 0 switches back to the old Share UI using the side bar. If it doesn't work, simply log off and then log in again.