Windows 10, Version 1607, (Anniversary Update) will change also some settings. The option to switch off Cortana in search has been removed. This observations has resulted in several web articles claiming, Cortana can't be switched off. In a 2nd look I will explain a few details.
---
Advertising

---
You can't turn off Cortana in Anniversary Update?
The story begun with the article You can't turn off Cortana in the Windows 10 Anniversary Update in PCWorld. If you click the search box in taskbar and go to settings, the option to disable cortana has been removed in Windows 10 Anniversary Update. Here is a screenshot published by PCWorld.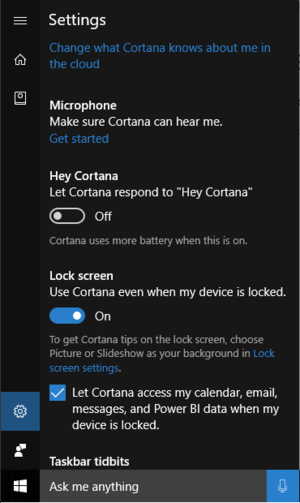 (Source: Screenshot)
The local search will be extended by default to the Internet and Cortana is involved. Well, it took only a few hours, until WindowsCentral published an article Yes, you can turn Cortana off in the Windows 10 Anniversary Update showing how to change settings to revert to a local search without allowing Cortana to search the web. Cortana also asks during first setup, whether a Web search are allowed or not (see German article Cortana-Zwang mit dem Anniversary Update für Windows 10? Immer mit der Ruhe).
WindowsCentral.com has also an explanation, why Microsoft has removed this option: But there is a reason for this too, which is a change in the structure of Cortana and it being a service on iOS and Android.
Use Group Policies (or Registry-Settings) to disable Cortana
Users of Windows 10 Pro or Enterprise may launch Group Policy editor gpedit.msc via Run as administrator and navigate to Computer configuration/ Administrative templates / Windows components / Search. Then change the group policy Allow Cortana or Do not allow Web search (see also Ghacks).
---
Advertising

---
In Windows 10 Home use Registry-Editor regedit.exe and navigate to the key:
KEY_LOCAL_MACHINE\SOFTWARE\Policies\Microsoft\Windows\Windows Search
Set the DWORD value AllowCortana to 0. After next login Cortana should use a local search for all user accounts. To restrict this policy to a single user account navigate to:
HKEY_CURRENT_USER\SOFTWARE\Policies\Microsoft\Windows\Windows Search
and set the DWORD value AllowCortana to 0. But keep in mind: Changing registry values in Policy branch requires administrative privileges. In administrator accounts regedit.exe automatically invokes the UAC. On standard accounts you need to launch regedit.exe via Run as administrator. While this isn't a problem in KEY_LOCAL_MACHINE, the branch HKEY_CURRENT_USER comes with a trap. Runing regedit with administrative credentials writes the changes to the registry branch of the Administrator account used in UAC prompt. So to alter the registry settings of a local account, you need to search the registry branch HKEY_USERS for the appropriate sub-branch and change its corresponding values.
Similar articles
Microsoft axes Group Policies in Windows 10 Pro version 1607