[German]Next Tuesday, September 26, 2023 (D-Week), Microsoft plans to release its optional update for Windows 11 22H2. This brings Copilot with AI features to this Windows 11 build. There was some confusion because it could be interpreted that Windows 11 23H2 would be released then. Basically, the bits for the fall 2023 update for Windows 11 are already on the systems and can be unlocked via Enablement Update. In general, Microsoft wants to do that in Q4 2023 (so from October). In addition to Copilot's AI features, Microsoft is shipping up to more than 150 new features or changes in this OS feature update to 23H2 (and probably 22H2). Microsoft announced this on September 21, 2023, and revealed more details at the same time. Note: Text regarding the release of 23H2 and rollout of Copilot of 22H2 adjusted.
---
Advertising

---
Windows 11 23H2: Fall Update 2023
Windows 11 Insider have been able to test it for a while now, the fall update for the year 2023 will be released as Windows 11 23H2. What does this mean for Windows 11 users?
Windows 11 23H2 will officially be made available on Microsoft's websites as a download (via Media Creation Tool as well as an ISO installation medium) somewhere after September 26, 2023, and can then be installed on compatible machines (if a license is available for this).
For users with Windows 22H2, it should be offered as a preview update on September 26, 2023 (or later in October). Normally, the update should be optional, but whether it will be installed automatically remains to be seen (in the past, there have been reports of preview updates being installed automatically).
The official rollout of Windows 11 23H2 across the board would then be rolled out with the security updates on October – I assume on Patchday on October 10, 2023. That's when machines running Windows 11 22H2 will get the feature update – unless a show stopper prevents this upgrade due to compatibility issues.
The new features from Windows 11 23H2 are already available on all machines with Windows 11 22H2 through updates, but not yet unlocked. The feature update to 23H2 will then be unlocked via Enablement Update KB5030310 (the colleagues from deskmodder.de had already pointed out this update here, which is available for Insiders).
Copilot and many new features
In a blog post, Yusuf Mehdi – Corporate Vice President & Consumer Chief Marketing Officer announced the highlights of the upcoming Windows 11 (23H2 and the Copilot enabled 22H2). The AI solution Copilot, which is supposed to find its way into all Microsoft products, including Windows 11, takes a prominent place.
There will only be one copilot, which will then be integrated step by step into various products like Bing, Edge, Office or Windows 11. Remarkably, Microsoft is letting the AI Assistant loose on its Windows 11 users in "an early" form of the Copilot. Yusuf Mehdi writes, "Copilot launches in its early form in the next version of Windows 11, available Sept. 26."
In Bing, Edge and Microsoft 365, Copilot isn't scheduled to follow until fall 2023. A remarkable statement, given that Windows 11 users are the guinea pigs for Microsoft's new AI solution.
---
Advertising

---
Martin Geuß has already hinted in this German article that the Microsoft announcement machine is already driving crazy again, describing Copilot as an optional update for Windows 11 version 22H2, shipped on September 26, 2023, which will then be "integrated into version 23H2 in the fourth quarter." What is probably meant is that Windows 11 22H2 users will receive Copilot on September 26, 2023, and the feature update to 23H2 on October 10, 2023 (assuming the machine is compatible), and will then be trafficked via Copilot.
Microsoft wrote that the Windows 11 update to 23H2 is one of our most ambitious feature updates to date, with more than 150 new features. It brings the power of Copilot and new AI-powered experiences for apps like Paint, Photos, Clipchamp and more directly to Windows PCs. Optimists will cheer, lots of great new features. Pessimists will see plenty of chances for it all to go down hard once again (as with previous major feature updates).

Copilot in Windows 11
Microsoft has posted the above video with a brief introduction of Copilot in Windows 11 22H2/23H2 on YouTube. In its product introduction of the new features, Microsoft promises the following innovations: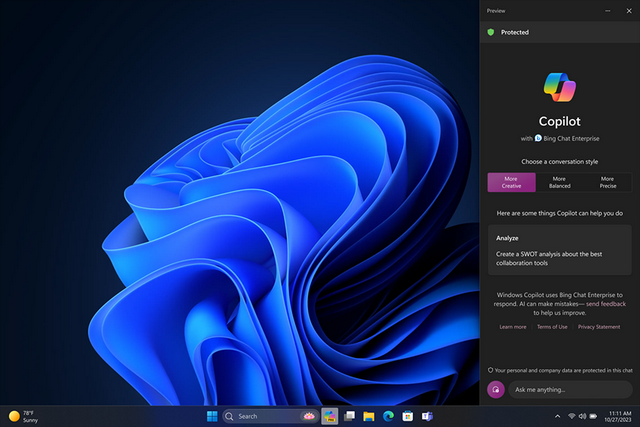 Copilot in Windows 11, Source: Microsoft
Copilot in Windows (still Preview): This feature is intended to allow users to create things faster and complete tasks more easily. To do this, users should be able to seamlessly access Copilot's functions. Specifically, this means: Microsoft has buried the terrible voice assistant Cortana and allows access to Copilot directly from the taskbar or with the keyboard shortcut Win+C. A sidebar is then displayed (see screenshot above), where help is supposed to be given. It is worth noting that "a preview" is now to be included in the production versions of Windows 11.
Paint:The drawing program, which hardly anyone who works seriously with graphics uses, has been enhanced by Microsoft with AI for drawing and digital design, and now includes the ability to remove backgrounds and layers. Paint also includes a preview of Cocreator, a model that brings generative AI to the Paint app.
Fotos:This app has also been improved by AI. This includes new functions for automatically editing photos. Background blur is supposed to make it quick and easy to highlight the subject of a photo. To do this, the Photos app automatically finds the background in the photo and highlights the subject and blurs the background with a single click. Searching for photos stored in OneDrive accounts (Home or Personal) has been improved. Users should now be able to quickly find the photo they want based on the content of the image. Also, you can now find photos based on where they were taken.
Snipping Tool:This tool should now offer even more possibilities to capture content on the screen via screenshot. With the update, specific text content can now be extracted from an image to be pasted into another application. Users can easily protect sensitive information with text redactions by inserting these redactions into the screenshot after capturing from the screen. And with the addition of audio and microphone support, it's now even easier to create engaging videos and content from screen, Microsoft promises. The question for me here is how far the video recording can keep up with products like TechSmith's Camtasia, for example.
Clipchamp: The tool now comes with automatic compilation, helping users with scene suggestions, edits and narration based on images and footage. So users should be able to create and edit videos like a pro to share with family, friends and on social media. Great promises, but without the appropriate knowledge, it won't even be enough for semi-professional quality.
Notepad:The Windows Editor is supposed to automatically save the session state so that Notepad can be closed without interrupting dialogs. The next time the user opens it, they can pick up where they left off. Notepad automatically restores previously opened tabs as well as unsaved content and edits in those opened tabs.
New Outlook for Windows: The new Outlook has been announced for quite some time (see Microsoft 365: First Windows Mail and Calendar users will be migrated to the new Outlook at the end of August 2023, which did not always cause joy). Microsoft promises that users will be able to connect and coordinate their various accounts (including Gmail, Yahoo, iCloud and more) in a single app. Smart tools are supposed to help write clear, concise emails and seamlessly attach important documents and photos from OneDrive. Must each try out what this means and whether it works with German texts. I remain skeptical, who has not organized his thoughts, will not get clear texts together even with help – and how it looks with confidentiality and privacy is also open. More information can be found at this link.
File Explorer: Insiders have already been able to test the improved File Explorer. This comes with a modernized home page, address bar, and search box so users can more easily access important and relevant content, stay up to date on file activity, and collaborate without having to open a file. Also new to File Explorer is a new Gallery feature that makes it easier to access your photo collection.
Windows Backup:The new app should make moving to a new Windows 11 PC easier than ever, Microsoft promises. Windows Backup is said to seamlessly transfer most files, applications and settings from one PC to another.
Furthermore, Microsoft promises new features in texting for speech access and new natural voices in the screen reader app Narrator. With this, Microsoft wants to support users with impairments in Windows 11. In May 2023, there was also once an announcement that Windows 11 should get support for RAR archive formats (Windows 11 gets support 7-Zip, RAR and GZ as archive formats in addition to ZIP). This functionality should be available with Windows 11 23H2 via context menu. Other innovations mentioned in this Technet article, Windows Hello for Business or FIDO2 should open up a password-less future. There are updates to Windows Firewall, including targeting firewall rules to specific applications, updates to firewall location awareness, and more detailed firewall logging.
Whether everything is coming to Windows 11 22H2, or will only be unlocked in stages, or even only available after the upgrade to 23H2, is not revealed exactly.
Disable Windows 11 Copilot
According to this Technet article, Copilot should be enabled by default in Windows 11. However, administrators in corporate environments have the option to disable Copilot via Intune or policies. Martin Brinkmann has already mentioned the policies in this post. There is also an option in the settings to disable access via the taskbar.
Alternatively, the registry editor can be started with administrator permissions. Then in the key:
HKEY_CURRENT_USER\Software\Policies\Microsoft\Windows\WindowsCopilot
the 32-bit DWORD value TurnOffWindowsCopilot must be set to 1. After a reboot, the copilot should no longer appear.