[German]Desaster for Microsoft? It's reported, that 32 Terabyte of data, containing parts of Windows 10 source code and also many internal Windows builds has been leaked. Here are a few details.
---
Advertising

---
Exklusive report from The Register
The Register has published an exclusive article, claiming that 32 Terabyte of Data has been uploaded as a 8 Terabyte batch to betaarchive.com. It's reported, that it is part of Microsoft's Shared Source Kit – according to people who has seen the material.
The Shared Source Kit contains sources of Windows 10 hardware drivers, PnP code, USB and Wi-Fi stacks, storage drivers, and ARM-specific OneCore kernel code.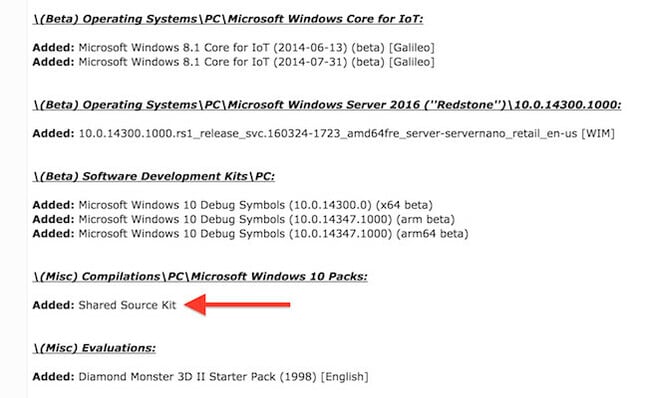 (Source: The Register)
The above screen shot has been shown as a prove. The Register speculates, that the material helps to find new security holes. The released material also contains non public internal Windows 10 builds, and 64 bit ARM variants, and multiple versions of Microsoft's Windows 10 Mobile Adaptation Kit, and should be uploaded at June 19, 2017 to a FTP folder.
The Shared Source Kit is port of Microsoft's Shared Source-Initiative – where the company is sharing code with partners, customers and more, to support debugging.
Leak is smaller, material removed
Administrators from betaarchive.com has published a statements tonight, giving a few more details:
---
Advertising

---
The Register article https://www.theregister.co.uk/2017/06/2 … s_10_leak/ has got BetaArchive a fair amount of attention this evening. They claim, and I quote "32TB of Windows 10 internal builds, core source code leak online".

First of all let us clear up a few facts. The "Shared Source Kit" folder did exist on the FTP until this article came to light. We have removed it from our FTP and listings pending further review just in case we missed something in our initial release. We currently have no plans to restore it until a full review of its contents is carried out and it is deemed acceptable under our rules.

The folder itself was 1.2GB in size, contained 12 releases each being 100MB. This is far from the claimed "32TB" as stated in The Register's article, and cannot possibly cover "core source code" as it would be simply too small, not to mention it is against our rules to store such data.
At this time all we can deduct is that The Register refers to the large Windows 10 release we had on March 24th which included a lot of Windows releases provided to us, sourced from various forum members, Windows Insider members, and Microsoft Connect members. All of these we deemed safe for release to BetaArchive as they are all beta releases and defunct builds superseded by newer ones, and they were covered under our rules.

If any of this should change we will remove these builds from the FTP and we will happily comply with any instructions to do so by Microsoft.

With regards to the BBC article http://www.bbc.co.uk/news/technology-40366823 about two Britons that have been arrested following an alleged Microsoft hack, we don't believe there is any connection with this alleged "Windows 10 core source code leak".
So in brief: The leak was smaller as reported, and the material has been removed from the ftp servers.