[German]Google has begun to offer European users of Android devices a browser selection ad to the user. Here is some information about this.
---
Advertising

---
Browser choice, the background
I hadn't mentioned it here in the blog due to lack of time: After various competition proceedings of the EU Commission against Google and its dominant position at Android, the company had to move. Following the Commission's decision in July 2018, Google has already changed the licensing model for Google apps for use on Android mobile phones. There were new, separate licenses for Google Play, the Google Chrome browser and Google Search. Under pressure from the EU Commission, Google gives phone manufacturers the freedom to install alternative apps alongside a Google app.
Another measures was the announcement that European users would be offered a choice of browser app and search provider to use. This was announced by Google in mid-March 2019 in a blog post entitled Supporting choice and competition in Europe.
Now we'll also do more to ensure that Android phone owners know about the wide choice of browsers and search engines available to download to their phones. This will involve asking users of existing and new Android devices in Europe which browser and search apps they would like to use.
In April Google published the blog post Presenting search app and browser options to Android users in Europe and presented the following screenshot of the app selection in English.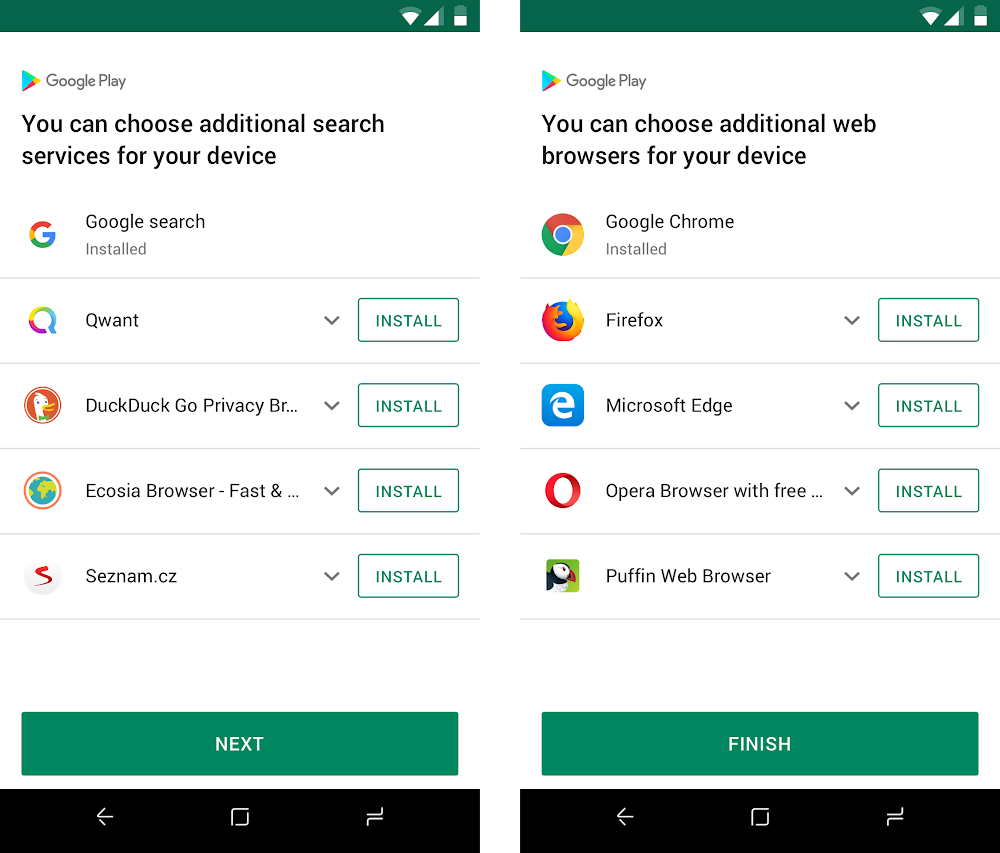 (Android browser and search provider choice, Source: Google)
The browser choice has arrived
I myself haven't heard anything about this on my Motorola Moto G5 with Android yet. Meanwhile several websites report that the first users of Android devices are offered the choice of browser app and search provider.
---
Advertising

---

(Android browser and search provider choice German, Source: Dr. Windows)
Martin Geuß from German site Dr. Windows yesterday showed the above screenshot, which is divided in the two selection screens. Martin wrote that he didn't get this selection when he first visited the Google Play Store yesterday. But then he received the message shown above.
The colleagues of German platform WinFuture.de describe the procedure in this blog post somewhat more in detail. First, when visiting the Google Play Store, the user is given the opportunity to choose an alternative browser (left picture in screenshot above). As soon as he has installed an alternative app or tapped NO THANKS (NEIN DANKE), in a second step the app window shown in the upper right corner appears. There the user can decide on an alternative search provider and install it or leave everything as it is with NO THANKS. The browser choice seems to be rolled out in waves. Any of you who got this selection?
---
Advertising


---