[German]The time has come, Microsoft has integrated a notifcation bar, that indicates the end of Flash support, when using Internet Explorer in Windows 10 during visiting Flash pages.
---
Advertising

---
Flash support will end in 2020
Most blog readers should be familiar with the facts. Already in the summer of 2017, Adobe, together with Apple, Facebook, Google, Microsoft and Mozilla, announced the end of life for Flash and the end of Adobe Flash support. The end of support for the Adobe Flash Player has been announced for the end of 2020 (see my blog post Adobe Flash: End-of-Live date again announced). Then there will be no more security updates for Flash and the Adobe Flash Player will no longer be available for download.
Flash in Microsoft browsers in Windows
Microsoft has integrated the Adobe Flash Player in both Windows 8.1 and Windows 10. The Flash Player can thus be used in Microsoft Edge and Internet Explorer browsers. As a user, there is no way to uninstall the Adobe Flash Player to get rid of this security risk. But Microsoft provides security updates for the Flash players in Windows 8.1 and Windows 10.
Support until the end
Microsoft wants to support the Flash Player until the end (see Microsoft: Flash Player will be removable in autumn, support will end in 2021), but has started some time ago with steps to restrict and remove the Flash Player.
In 2017 and 2018 Microsoft Edge asked the user to display Flash content in the browser, and Flash has been updated so far.
Since 2019, Flash is deactivated by default in Microsoft Edge and Internet Explorer. However, the user can activate Flash in both browsers. Then Microsoft Edge asks at each session whether Flash content of a site should be executed.
From late 2020, the ability to run Adobe Flash in Microsoft Edge and Internet Explorer will be removed in all supported versions of Microsoft Windows.
After December 2020, Microsoft will no longer provide a "Security Update for Adobe Flash Player" for Microsoft Edge Legacy and Internet Explorer 11.
Starting in January 2021, Adobe Flash Player will be disabled by default and all versions older than KB4561600 (released in June 2020) will be blocked.
Downloadable resources related to Adobe Flash Player hosted on Microsoft websites will no longer be available.
In summer 2021, all APIs, Group Policy, and user interfaces that specifically govern the behavior of Adobe Flash Player will be removed from Microsoft Edge (legacy) and Internet Explorer 11. This will be done via the latest "Cumulative Update" on Windows 10 platforms and via "Cumulative Update for Internet Explorer 11" or "Monthly Rollup" on Windows 8.1, Windows Server 2012 and Windows Embedded 8 Standard. The "Update to remove Adobe Flash Player" will also be included as part of the "Cumulative Update" and "Monthly Rollup" from this point on. I had discussed this in the blog post Microsoft: Flash Player will be removable in autumn, support will end in 2021.
Notifcation bar about End of Flash in Internet Explorer
On September 16, 2020, Microsoft released the preview updates KB4577062 for Windows 10 version 190x and update KB4577069 for Windows 10 version 1809. In both preview updates there is a point mentioned:
---
Advertising

---
Adds a notification to Internet Explorer 11 that informs users about the end of support for Adobe Flash in December 2020. For more information, see KB4581051.
As soon as one of these updates is installed on the mentioned Windows 10 versions, Internet Explorer 11 can display a notification about the expiration of Flash support. This notification bar informs users visiting websites with Flash content that support for Adobe Flash Player will end on December 31, 2020, as shown in the screenshot below (I no longer have a Windows 10 version 1809 or 190x machine to test, the screen shot is from the colleagues of Bleeping Computer).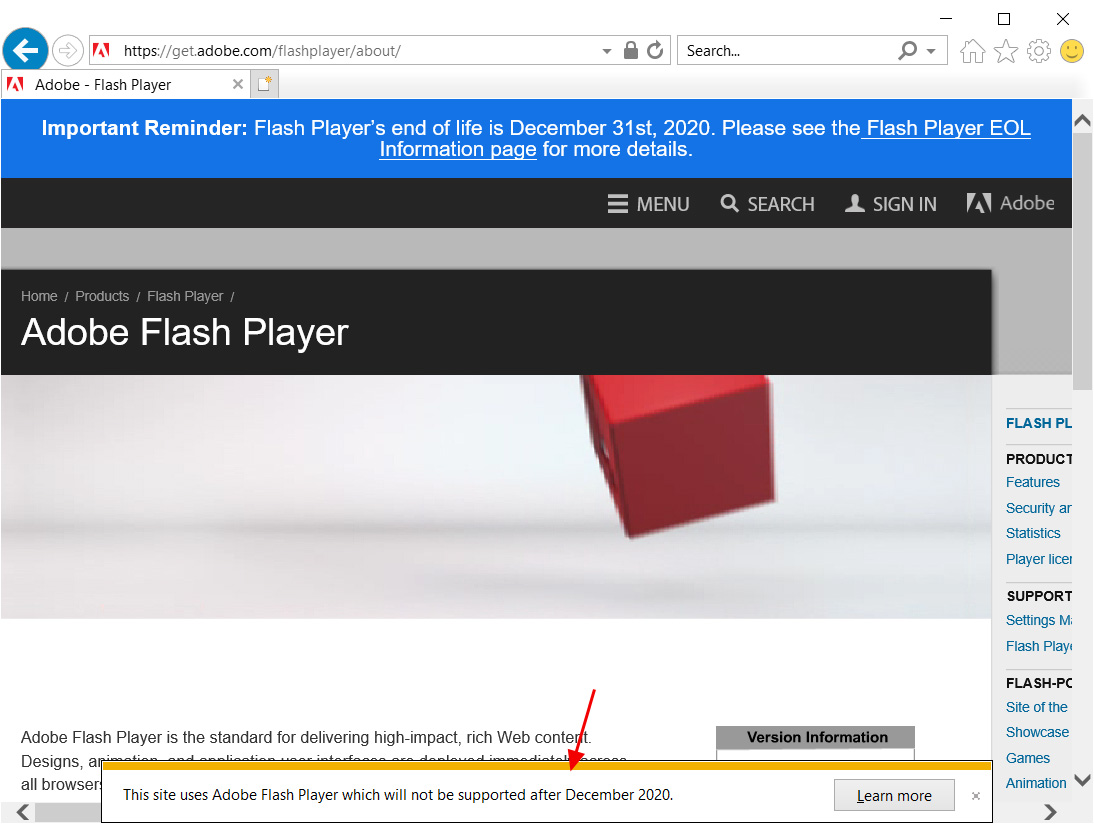 (Flash warning in Internet Explorer 11, Source: Bleeping Computer)
Disabling the warning
Enterprise customers who want to disable this notification bar in Internet Explorer 11 can do so by opening the following registry key:
HKEY_LOCAL_MACHINE \SOFTWARE\Microsoft\Internet Explorer\Main
There the 32-bit DWORD value DisableFlashNotificationPolicy must be set to 1.
Similar articles:
Firefox 84 comes without Adobe Flash
Fake News: Flash is dead? Now it's fading out is planned 2020
Adobe Flash: End-of-Live date again announced
Microsoft: Flash Player will be removable in autumn, support will end in 2021