[German]Microsoft has updated its ISO install media for Windows 11 22H2 and Windows 10 22H2 and should now make them available for download. These install images contain the May 2023 security updates – and most importantly, the Secure Boot fix. According to my information, the updated installation media are available via Media Creation Tool as well as in the Visual Studio Subscriptions Center.
---
Advertising

---
The first information was announced on Twitter from PhantomOcean3, where he announced the updated ISO for Windows 11 22H2 in build 22621.1703. This installation media contains, besides the Moments 1 and 2 additions, the update KB5026372 from May 9, 2023 (see Patchday: Windows 11/Server 2022-Updates (May 9, 2023)).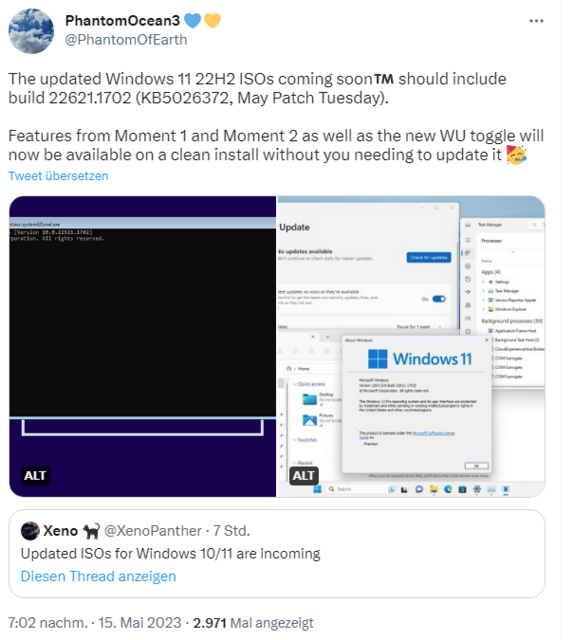 This update adds a new toggle feature on the Settings > Windows Update page. When this option is enabled, Windows 11 22H2 prioritizes the device so that it receives latest non-security updates and improvements directly when available.
In another tweet PhantomOcean3 points out the updated ISO for Windows 19 22H2 in build 19045.2965. This installation disc contains the update KB5026361 from May 9, 2023 (see Patchday: Windows 10-Updates (May 9, 2023)). The update fixes e.g. a race condition in the integrated LAPS.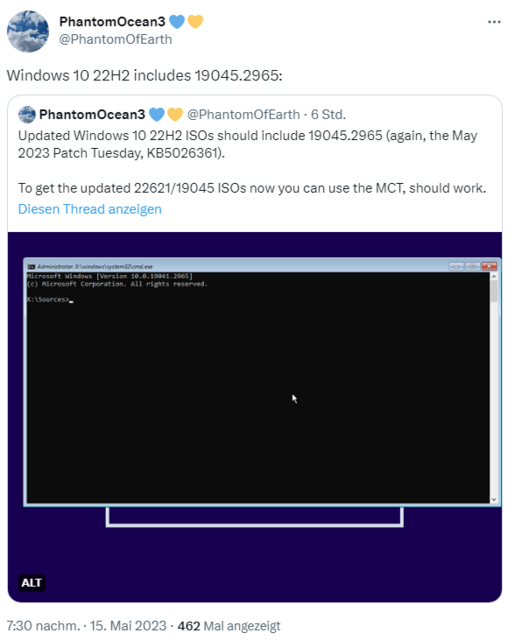 ---
Advertising

---
The ISOs should be made available on Microsoft's download pages. Here are the relevant links for Windows 10 and 11, with the download then being done either via Media Center Tool (MCT) or via ISO image (if not using a Windows system to download).
I had described in the blog post Tip: Windows 10 ISO direct download from MS via Chrome, how the ISO installation images can be downloaded directly via developer mode in the Chrome browser (i.e. without MCT).
Available on Visual Studio Subscriptions portal
Furthermore, WZOR points out on Twitter that Microsoft has also made the ISO installation discs available on the Visual Studio Subscriptions portal (formerly MSDN).
In this article, the colleagues from neowin.net give a short summary of the known problems with the latest Windows 10/11 updates.
Similar articles:
Patchday: Windows 10-Updates (May 9, 2023)
Patchday: Windows 11/Server 2022-Updates (May 9, 2023)
Windows 10 21H2 and 22H2 ISO install media refresh April 2023 in VLSC and MSDN
Tip: Windows 10 ISO direct download from MS via Chrome