[German]Microsoft has clearly lost track with the needs of its commercial users. The latest example is the backup app that Redmond flushed onto Windows 10 users' systems via a security update in September 2023. Not really usable and impossible to get off the system. Especially the administrators and users of LTSC versions of Windows 10 are frustrated because they have been spared from such bloatware so far.
---
Advertising

---
Update KB5030211 and the backup app
On September 12 (second Tuesday of the month, patchday at Microsoft), several cumulative updates were rolled out for the supported Windows 10 builds. Cumulative update KB5030211 raises the OS build on Windows 10 21H2 and 22H2 to 1904x.3348 – on 21H2, only the Enterprise variant gets the update. The update only contains security fixes, but no new operating system features. Microsoft said about this:
This update addresses security issues for your Windows operating system.
I had given notes about the update in the blog post Patchday: Windows 10 Updates (September 12, 2023). A list of fixes can be read in the article Windows 10 22H2 Preview Update KB5029331 (August 22, 2023), these fixes were taken from the previous month's preview update. It says that this update adds a new backup app to the system.
The new backup app
This backup app has been developed for Windows 11, but is also available as a back-port for Windows 10 22H2. However, the app can only be used to backup and restore folders, app and settings. Anyone who wants to make a backup, matured to third-party programs that do the job reliably. The former Windows 7 backup function, which could also do this, has been abandoned by Microsoft.
Of course, the comments from my German blog readers immediately caught my eye – they are not so quick to be "led astray". German reader sumpfnagel then also asks in this comment how to get the backup app off the system. But there was no answer – only T Sommer writes that the app is not supported in his organization and adds that the feature is not removable. It was said that the Windows bloatware is coming to the systems with new momentum.
Frustration among LTSC users
I came across the following tweet from my colleagues at Windows Latest, who picked up on the sentiment among users in this article. There you'll find confirmation of what I said above, that a new "Windows Backup" feature was introduced for Windows 10 on patchday September 2023. This app allows system backups associated with a Microsoft account, including files, apps, settings, and more.
---
Advertising

---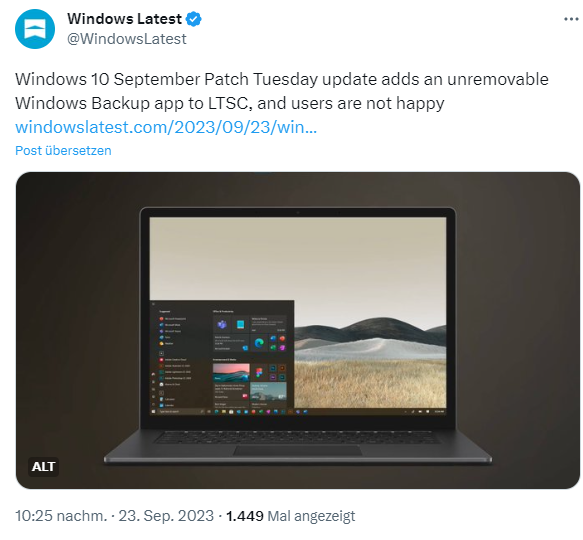 It is said that this backup tool is not to useful, but cannot be uninstalled. And it had been automatically added to enterprise systems, which includes LTSC version 21H2 of Windows 10. While users would have found that removing the "Windows Feature Experience Pack" can potentially eliminate the backup app. But this is not recommended, as the core pack is essential for other important features like the emoji picker and the snipping tool – well, both of the latter features are also something like "pimples on the butt," which no one really needs in enterprise environments.
There are posts on reddit.com where someone complains that the backup app got on the business systems without the administrator's permission and there is no policy to curb the stuff. Someone writes that they have removed the package with:
dism /online /get-packages 
Remove-WindowsPackage -Online -PackageName "Microsoft-Windows-UserExperience-Desktop-Package~31bf3856ad364e35~amd64~~10.0.19041.3393"
But there comes the hint that then also emoji picker and the snipping tool are missing. The people in this thread are foxed (with a domain account, the app doesn't work anyway) that they have been beaten over the spoon again by Microsoft, and complain that bloatware has now moved into Windows 10 21H2 LTSC Enterprise as well. Microsoft doesn't really have it together anymore as far as its business customers are concerned.t.
Also note js' German comments here on removing and a group policy to block Microsoft accounts, as well as his post here on reinstalling this Feature on Demand package.
Similar articles
Microsoft Security Update Summary (September 12, 2023)
Patchday: Windows 10 Updates (September 12, 2023)
Patchday: Windows 11/Server 2022 Updates (September 12, 2023)
Patchday: Windows 7/Server 2008 R2; Server 2012 R2 Updates (September 12, 2023)
Patchday: Microsoft Office Updates (September 12, 2023)
Windows 11 22H2: Preview Update KB5029351 (August 22, 2023)
Windows 11 21H2: Preview-Update KB5029332 (August 22, 2023)
Windows 10 22H2 Preview Update KB5029331 (August 22, 2023)