[German]Good news for Windows 11 users who want to download a Windows 11 23H2 installation image from the Microsoft servers using the Media Creation Tool (MCT) and put it on a USB stick. After the Media Creation Tool (MCT) was previously only able to download Windows 11 22H2 from the Microsoft servers, this has now changed. A Windows 11 23H2 installation image can now be created on a USB stick using the Media Creation Tool (MCT).a Creation Tool available
---
Advertising

---
Microsoft had released Windows 11 23H2 on October 31, 2023. However, users were not yet able to download an installation image for this version using the Media Creation Tool (MCT). Microsoft had admitted that the MCT could not create an installation image for Windows 11 2023 Update (23H2) when it was released.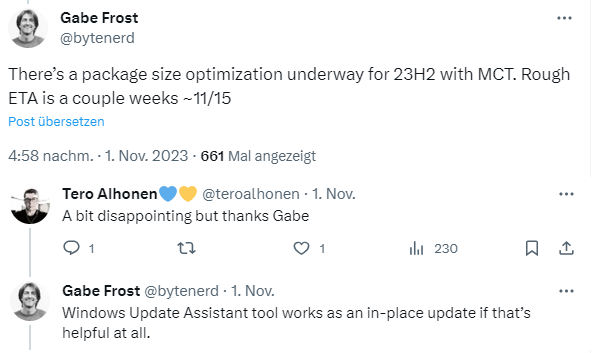 Microsoft wanted to optimize a few things and had promised the release on November 15, 2023. I had confirmed in the blog post Microsoft confirms: The Media Creation Tool does not yet download a Windows 11 23H2 installation image this problem.
Create now an installation media via MCT
Microsoft has now fulfilled its promise (noticed here) and users can download the Windows 11 23H2 installation image using the Media Creation Tool (MCT). To do this, you can go to this Microsoft page and choose from the download offers there.
The option "Create Windows 11 Installation Media" downloads the Media Creation Tool (MCT). The .exe file in question can be started as an administrator and guides the user through a series of dialog boxes with a language selection.
---
Advertising

---
The wizard ends with a dialog box to create an USB memory stick or an ISO file with the installation image (see the German dialog box above). This can then be used to install the operating system.