[German]The recently released Nvidia WHQL graphics driver version 397.31 seems to cause serious issues on some Geforce GTX 1060 graphics cards. The driver does not install on some systems, and fails with error 43.
---
Advertising

---
Nvidia has released a new (game-ready) WHQL graphics driver version 397.31 for Windows. This is optimized for the games Battletech and Frostpunk. I didn't blogged about that, but at reddit.com is a thread about that update and what's new. The release notes are available here.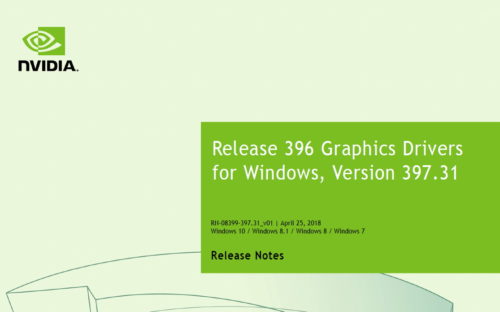 Shortly after the release of the WHQL driver, the first users appeared in the reddit.com thread who reported massive install issues on a Geforce GTX 1060 graphic cards under Windows 10. Here are some messages:
#1: Problems too upgrading on 1060, have to go back. Loop restoring default driver on 1803 only on Desktop with GTX1060, working fine on notebook with 940M, same 1803, 17134.1

#2: Same with 1060 3gb. I'm assuming as they were trying to fix 2 1060 issues at the same time, they inevitably created a 3rd one

#3: Just finished reverting back to 391.35. Installed 397.31 and my monitor would not show up as 2560×1080. 1920×1080 max resolution and Nvidia control panel crashed on launch.
On this reddit page sombody postet a hint to the tool DDU, that allows to clean a bricked installation, so users can install an older driver. But here users reporting, that DDU won't help to cure the botched driver install.
Also German site gamestar.de has also published an article here that deals with the topic. Besides the fact that 32-bit systems are no longer supported, they have posted a link to the Geforce forum. Users are reporting massive installation issues. There is a note: Nvidia has reproduced Code 43 on 1060 vbios's in use by subvendors – so it seems to concern only some models with a certain BIOS. Gamestar reports other problems such as extremely low performance of two frames per second.
---
Advertising

---