[German]If you own a smartwatch, you might be annoyed when the expensive device becomes unusable due to a crack in the glass. Google has now confirmed that it will not offer a repair option for its Pixel Watch to replace a cracked display glass. The affected models will thus mutate into expensive scrap metal.
---
Advertising

---
Broken display
Several users of Google Pixel Watch models complain about cracked watch glasses. The following photo is a screenshot of a reddit.com forum post by a user with such damage. The watch is beyond repair it says.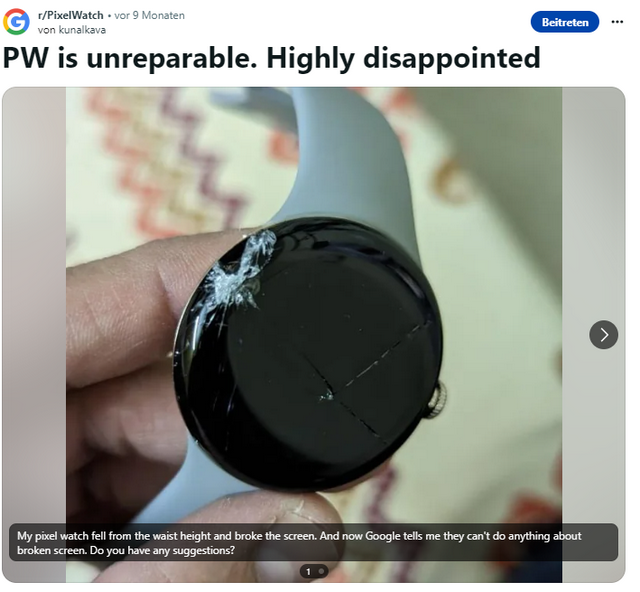 There is also this thread on reddit.com where someone asks about a repair option for the glass. The blunt answer is that Google does not offer any replacement parts to repair a Google Pixel Watch with a cracked watch glass, even to third-party providers. I assume that it does not really make economic sense to repair a broken display including the glass cover. There are also corresponding posts at Google, but without a solution.
No repair option
A user have had a long chat with Google support about repair options before buying the Pixel Watch and was informed that no repairs were possible. The support informed the man that people who damaged their watches were offered some kind of exchange. However, the costs were not mentioned.
The Verge picked it up in this article, quoting a Google support representative from a support chat that the company has "no repair centers or service centers" for the device. "Right now, we don't have a repair facility for the Google Pixel Watch. If your watch is damaged, you can contact the Google Pixel Watch Customer Support team to review your replacement options," Google spokesperson Bridget Starkey confirmed to The Verge.
---
Advertising

---
And a warranty doesn't kick in either, because Google excludes damage due to abnormal use, accidents, negligence, etc. Technically, a repair would be possible according to iFixit, even though the removal of the broken glass including the display is complicated. Currently, there is a lack of spare parts.