[German]Jon von Tetzchner, CEO of Vivaldi and former founder of Opera, both browsers intended as alternatives to Chrome or Edge, has written an open letter to the EU Commission. In it, he laments Microsoft's practice of discouraging users from using a browser other than Microsoft Edge and virtually forcing the browser on users. He documents Microsoft's unfair practices and invokes the Digital Markets Act (DMA) as a basis for forcing Microsoft to cease anti-competitive behavior.
---
Advertising

---
Microsoft sucks with Edge
I had frequently reported here on the blog about Microsoft's annoying behavior to bring the Edge browser to the user community. For example, I had reported in the post Windows 10: Edge browser bugs and annoying popups about an annoying popup ad with ads for the Edge and Bing as a search engine.
Microsoft's attempts have already lost count. I had been planning to send a complaint to the EU Commission for some time, but I am not a market participant.
Digital Markets Act as leverage?
On the other hand, the EU's Digital Markets Act has become active in recent weeks, and the EU Commission has listed the first gatekeepers in this area. Microsoft joins the seven named companies, though the EU Commission has (still) explicitly excluded the Microsoft Edge browser from the list of 22 platforms.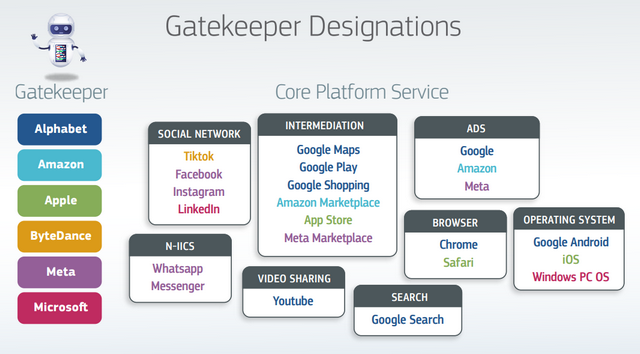 Gatekeeper; Source: EU Commission
---
Advertising

---
The Commission had opened four market investigations to further examine the arguments of Microsoft and Apple, who argue that some of their core platform services cannot be classified as gateways despite meeting the thresholds. In Microsoft's case, the issues are the Bing search engine, the Edge browser and the Microsoft advertising network. The investigation should be completed within a maximum of 5 months.
The Digital Markets Act (DMA) restrictions should take effect in the next few months. Gatekeepers will be subject to special rules, such that free competition may not be hindered and lock-in of users is not permitted.
Complaint from Vivaldi
Now Vivaldi CEO Jon von Tetzchner has written an open (complaint) letter to the EU Commission (via). There, Tetzchner details his experience, which goes back to the 1990s, when Microsoft bundled Internet Explorer with Windows, flattening other browser vendors. Microsoft would constantly look for ways to force its own browser (first Internet Explorer, now Edge) on (Windows) users.
In light of the fact that the DMA will come into full force in the coming months, Vivaldi's open letter to the EU Commission expresses its concern about Microsoft's recent behavior. While Microsoft had always publicly expressed a constructive attitude towards the DMA. The company's actions tell a different story, writes the Vivaldi CEO. Recent months have revealed Microsoft's concerted efforts to either deliberately disregard the new regulation or expand its market power before the DMA takes full effect, he said.
This disregard for the DMA manifests itself in a variety of areas, according to Vivaldi, but especially in the way Microsoft operates in the browser market:
Microsoft is increasingly showing popups in Windows to users looking for an alternative browser that prompt them to use Edge as their browser.
Microsoft is positioning the Edge browser as the default in Windows and making it difficult for users to try to override those defaults to use user-friendly settings u. In late 2021, I had reported in the post Windows 11: Microsoft enforces Edge browser in several protocols, bricks EdgeDeflector that Microsoft is forcing the Edge browser to be the default in protocols in Windows 11. This makes redirection to third-party browsers impossible.
Microsoft is increasingly ignoring and overriding default browser settings, including in Outlook and Teams (I had reported in the post Outlook and Teams to open links soon in Edge by default).
Microsoft is introducing a de facto default exclusivity for Edge, making it harder and more difficult for other browser vendors to counter. For example, Microsoft is using its Bing chat feature for competitive advantage by forcing Edge from users.
Vivaldi's CEO calls on Microsoft to rethink its approach and adhere to the principles and goals of fairness and contestability set forth in the DMA. Only by adhering to these principles can a truly competitive and user-centric digital ecosystem thrive, the open letter states. In the open letter, Jon von Tetzchner documents all of Microsoft's messes regarding Edge, which are intended to force this browser on users.
The letter ends by saying that the EU should work with Microsoft and its competitors to see how fair competition can be achieved in this area. If necessary, the DSA should be tightened to force Microsoft to behave competitively. I think the letter comes just at the right time, as the EU Commission's investigation into Edge is still ongoing. If Microsoft's bones are pulled in this regard (Redmond has already backed down) and the unspeakable Edge pricing is dropped, the users should be happy.