[German]A few hours ago  I speculated about the release of Windows 11 22H2 (see Will Windows 11 2022 update (22H2, build 22621) be rolled out on Sept. 20, 2022?). Now it happens, Microsoft has released the feature update to Windows 11 2022 Update a few hours ago. Both installation ISO files (via Media Creation Tools) and an upgrade via Windows Update are available to lift compatible machines to the new build.
---
Advertising

---
Official release by Microsoft
I got the press releases from Microsoft on the evening of September 20, 2022 and the development team announced the official release via Panos Panay also on the Windows Blog in the post Available today: The Windows 11 2022 Update.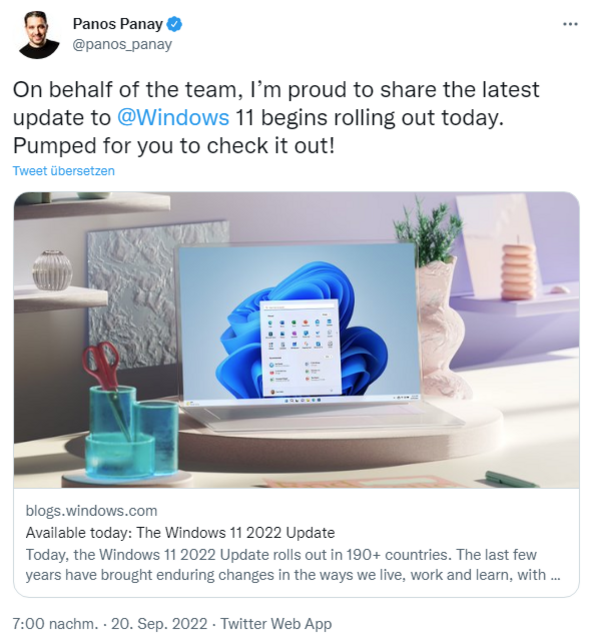 According to Panos Panay, Windows 11 2022 Update has been released in over 190 countries simultaneously. It is the first feature update for Windows 11, which will be released on October 5, 2021. On the Windows Blog, Panay sings the praises of what a great product the Windows 11 2022 Update basically is. In order to get the new operating system version, Panos Panay suggests buying a new computer equipped with Windows 11 22H2 right away and introduces some new models. On Twitter, not all users are as enthusiastic, as you can here or here. Here I hold back, everyone must evaluate for themselves.
Another blog post from Microsoft describes how inclusion drives the development of Windows 11. I had given a short overview regarding the innovations in Windows 11 22H2 in the post Will Windows 11 2022 update (22H2, build 22621) be rolled out on Sept. 20, 2022?. The colleagues from Bleeping Computer have listed some new features in this post and have also shown screenshots.
Deployment via Windows Update and WSUS
German blog reader Guido confirms in this comment that he was offered the version Windows 11 22H2 (22621) via the Windows Update function on a notebook with Windows 11 Home and that it was installed within 20 minutes. Blog reader Robert Glöckner writes in this comment that the feature update is also offered via WSUS.
Rollout in waves
John Cable from Microsoft describes in this blog post that Windows 11 2022 Update is immediately available worldwide. But as with Windows 10 feature updates, the rollout will happen in waves. For the Windows 11 22H2 rollout, Microsoft is using its well-established update systems and processes.
---
Advertising

---
The upgrade will only be offered in Windows Update if the telemetry data shows that the device in question is ready for the upgrade. At first, only newer devices will probably be able to enjoy the upgrade. However, Microsoft plans to increase the availability of the new Windows 11 version in the coming weeks, using telemetry to monitor the quality of the upgrades.
If Microsoft detects a problem with a device, such as an incompatibility with an application, the update will not be offered via Windows Update until the issue is resolved. For more information about the status of the Windows 11 rollout, see Windows version status.
Get the Windows 11 2022 Update via Update
In this blog post, John Cable details how users on compatible machines can get the feature update to Windows 11 22H2. On a suitable device that is already running Windows 11 version 21H2, it is possible to check if the latest feature update is available. To do this, open the Settings page and then select the Windows Update category. In the Windows Update settings page, select Check for updates option.
Compatible systems should then be offered the feature update and be able to select it for download and subsequent installation.
Windows 11 build 22621.382 will be shipped, and according to this comment, the feature update will be a full upgrade, replacing Windows entirely. More information can be found in the Windows 11 release notes.
Upgrade from Windows 10
For those using a device running Windows 10, the PC Health Check app can be used to check whether the device is eligible for an upgrade to Windows 11 (i.e., meets the minimum system requirements for Windows 11). If this is the case, it is possible to check whether Windows 11 version 22H2 is available for this device. To do this, open the Settings page and then navigate to the Update & Security – Windows Update categories under Settings. Then select on Windows Update the option Check for updates. If the device is eligible for Windows 11 and the upgrade is available, the download and install option is displayed..
ISO Download and MCT
Microsoft has also provided ISO installation files and a customized version of Media Creation Tools (MCT). For home users, Media Creation Tools (MCT) for Windows 11 22621 is available for direct download from this web page. Alternatively, one can go to this Microsoft page and choose the download offers there.
Using Media Creation Tools, an installation image can be downloaded and, for example, placed on a USB-USB stick as an installation medium. ISO files can also be downloaded as an ISO file using adguard.net. This can be transferred to a USB stick as an installation medium using tools such as Rufus.
Similar articles
Windows 11 officially released
Windows 11: Hardware requirements
Windows 11: Microsoft specifies hardware requirements, no blocking on incompatible devices
Windows 11: Microsoft enforces TPM 2.0 on virtual machines
Windows 11: Most hardware don't fulfill the minimum requirements, Microsoft reveals by-passing trick
Prevent upgrade to Windows 11
Windows 11 21H2 in broad rollout, 22H2 coming soon, new desktop search for Insiders, and more
One year of Windows 11: What do you think about?
Will Windows 11 2022 update (22H2, build 22621) be rolled out on Sept. 20, 2022?