[German]Brief note and question for the administrators among the readership. I just received a reader note that Microsoft has received an update of Edge Build 109.0.1518.140 on WSUS and that there may be conflicts because more recent versions are overwritten. There doesn't seem to be a changelog yet – but I have a suspicion.
---
Advertising

---
Edge 109.0.1518.140 on WSUS
German blog reader Thomas contacted me yesterday by email, because in WSUS (Windows Server Update Services) Edge 109.0.1518.140 is offered as an update. He writes that something strange happened to him:
New updates have been released for the Edge browser (stable channel version): Build 109.0.1518.140
This build replaces various versions from 105.X – 116.X and more, Thomas writes, adding that the update is also offered for the currently current Edge 116.0.1938.81. That is, it overwrites a current version with an old Edge browser build, if I interpret the notes correctly. The reader showed some confusion in his mail, because he doesn't think it's intentional to go back to such an old version.
In the release notes of Microsoft he has also found no updates. at MS were probably also not updated in this respect. Here is the last entry from September 12th 2023 to the Edge version 116.0.1938.81.
My suspicion
As of September 12, 2023, there were quite a few emergency updates to close critical vulnerabilities in software, Microsoft Edge has also updated. But now there is the problem that Microsoft Windows Server 2012/R2 is still in support until October 2023. There, however, only the Microsoft Edge 109.x will continue to be supported – as I mentioned in the blog post Windows Server 2012 / R2: Edge gets support until October 10, 2023.
Microsoft says that Microsoft Edge version 109 will be the last supported version on Windows Server 2012 and Windows Server 2012 R2 – later versions of the browser will no longer be available on the platform. By the way, the same is true for the Google Chrome browser. However, Microsoft wrote at the time that critical security vulnerabilities or bugs that are security exploited will be issued for Edge 109 on Windows Server 2012 and Windows Server 2012 R2. The same is true for the WebView2 runtime version 109.
---
Advertising

---
I assume that there was an error at Microsoft in the metadata description for the update. I had written this to Thomas in a reply and asked if he could set something which operating system platforms get the update. He writes in his mail that he doesn't know if he can set anything. He has rejected the updates as a precaution in any case, because with him is indicated that the update replace a number of updates: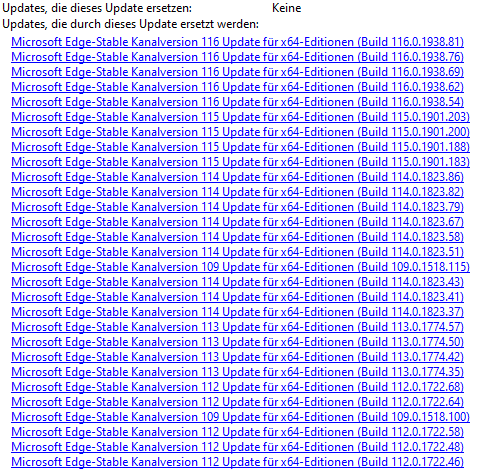 Thomas wrote that there seems to be no restriction on operating systems for this update, they are just replaced flat. Question: has anyone else noticed this? How do you guys handle this for Windows Server 2012 / R2?