[German]A few days ago, Microsoft released its latest Windows ADK (Assessment and Deployment Kit) for Windows 11 22H2. However, this ADK contains some unpleasant surprises or bugs. For example, the Win PE build from this ADK cannot be used with Windows 11 22H2 due to a version conflict. Furthermore a .dll is missing in the ADK, so that VBScript does not work in this version. It's not the end of the world but still kind of dumb.
---
Advertising

---
Windows 11 22H2 ADK (September 2023)
Microsoft periodically releases a Windows ADK (Assessment and Deployment Kit) for its supported versions of Windows. With the Windows Automated Installation Kit and the Windows PE add-on, administrators include the tools they need to customize Windows images for large-scale deployment and to test the quality and performance of your system, the components you add, and the applications that run on the system. The Windows ADK includes:
The Windows Assessment Toolkit and the Windows Performance Toolkit to assess the quality and performance of systems or components.
The Compatibility Administrator and the Standard User Analyzer tool.
Deployment tools such as Windows PE, Sysprep, and other tools that you can use to customize and deploy Windows 11 images.
The Windows Preinstallation Environment (Windows PE) as a separate download from the Assessment and Deployment Kit (ADK).
To add Windows PE to a ADK installation, the administrator can download and install the Windows PE add-on after installing the ADK. The download links can be found on the Windows ADK page.
Issues with Sept. 2023 ADK
In September 2023, Microsoft has released an updated version of the Windows ADK for Windows 11 22H2. Parts of the ADK (Windows PE add-on) are needed for example by some backup programs to create an emergency stick. I had already seen some tweets on X reporting issues with this ADK version. Now someone has picked up on the two main problems with the current ADK.
Wrong Win PE build
In the first tweet, Panu Saukko points out that the Windows ADK for Windows11 version 22H2 from September 2023 has a problem with the Windows PE build.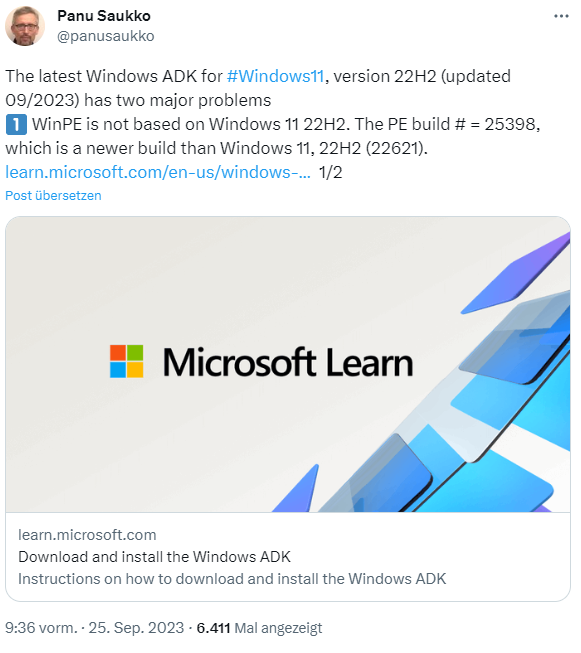 ---
Advertising

---
There is a Windows PE build 25398 in the ADK, but it does not match the Windows 11 22H2 build 22621. The upcoming Windows 11 23H2 should have build 22622. Something went wrong with this.
VBScript.dll missing
The second observation that came to my attention: the DLL library vbscript.dll needed to run VBScript is missing from the ADK build. The following tweet points this out.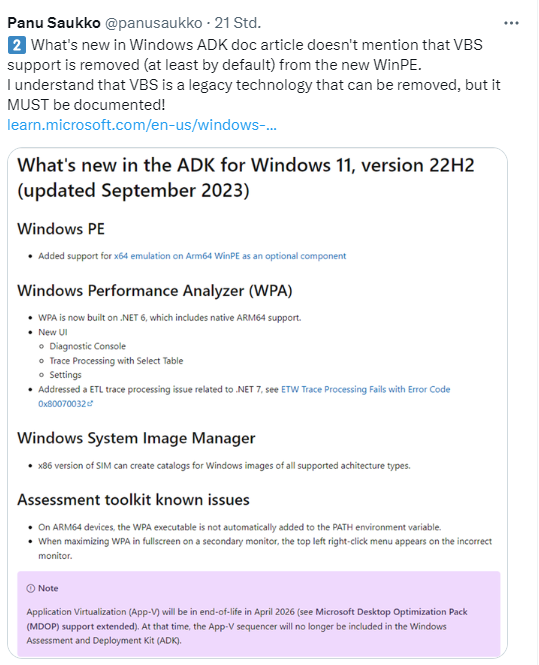 The whole thing isn't really a deal breaker, since VBScript support has been discontinued. But according to the above tweet, the lack of VBS support is not mentioned in the ADK documentation. However, the vbscript.dll can be post-installed and registered from previous ADKs, though I'm not sure if anyone still uses VBScript. However, it looks like you should wait for the October 2023 update of the Windows 11 22H2 ADK.